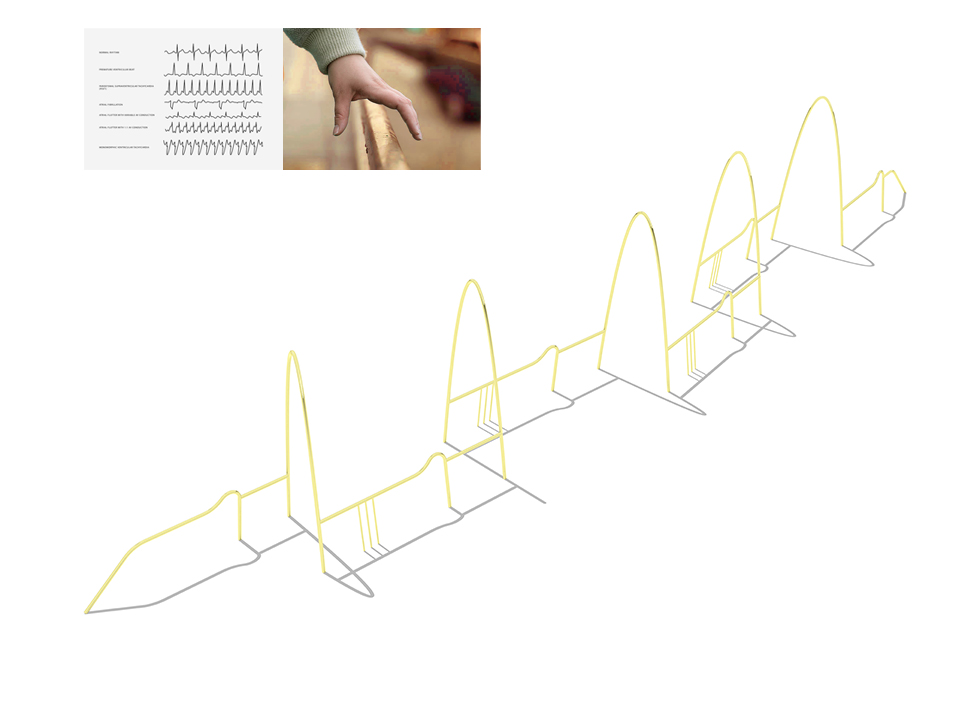 Ligne de Vies
2019 2021
Length: 24m
Width : 1m75
Height 3m40
Stainless steel tube
Project: a handrail crosses on both sides of one of the alleys of the Municipal Health Centre of Ivry-sur-Seine thanks to the presence of five arches. The cut and the rhythm of the proposal have been thought from an electrocardiogram.

With:
Ghita El Guedarri Image 3D - Editorial Complicity Julia Henry - Research Cécile Dieudonné
Manufacturing: Zébra3, direction Frédéric Latherade
Mediation: carte blanche to choreographers Joachim Maudet & Chloé Zamboni

Maitrise d'ouvrage : Mairie d'Ivry-sur-Seine
La conduite opérationnelle du projet par le service Arts Plastiques / Galerie Fernand Léger.
La maîtrise d'œuvre de l'opération de restructuration et d'extension du CMS est assurée par le groupement : Ellenamelh (architecte mandataire) / EPDC / Mébi / Iéti.